4 minute read
This year Inbound conference attacted +21 000 attendances to Boston. The coming trends in sales, marketing and business growth were presented from the Inbound experts, well-known speakers. Here are the key takeaways from the event.
Message is the new email
The email opened rate in 2017 is 20% (in average) which is much lower than that rate in 1997, 96%. Meanwhile, there are 1.9 billions active users and 2 billions messages are exchanged between businesses and their customers on monthly based in Facebook Messenger app only. It absolutely means that the direct messaging works for business conversation.
Source: F8 conference 2017
Based on the growth dramatically of the chat app, HubSpot's new features aim to generate one-on-one conversation for business. Here are the latest features announced at Inbound17
1. Conversations in HubSpot CRM Free:

"Conversations" is a shared inbox that helps you and your team have better one-to-one conversations with your customers. By sam
elessly pull in conversations in every messaging channels, the conversations from the prospect to customer stages are in one place.
#INBOUND17 announces "Conversations" – a unified inbox for all teams to collaborate. Included in HubSpot CRM for free! @dharmesh pic.twitter.com/LSHhb4kZ3h

— HubSpot Academy (@HubSpotAcademy) September 26, 2017
2. HubSpot acquires Motions.ai
Technology has changed the way we communicate. Today, people expect to interact with businesses when, where, and how they want.
Bots allow us to do exactly that, helping growing businesses scale one-to-one communications. With HubSpot's Motion.ai acquisition, soon anyone will be able to build a chatbot to communicate with customers on their terms — no technical skills required.
Motion.ai: A visual bot-builder that lets you go in, drag-and-drop, and build a bot. - @dharmesh #INBOUND17 pic.twitter.com/k3oq0ZMThR

— HubSpot @ #INBOUND17 (@HubSpot) September 26, 2017
3. HubSpot introduces Customer Hub
Beside Marketing and Sales Hub, HubSpot introduces the Customer Hub which focused on the final stage of Inbound methodology, delight. In Customer Hub, the customer can send feedback, "solving ticket" directly to the team based on the format of chatting box. As the results, the team is able to help customer quicker and more efficient with the support of knowledge center tools.
Ultilise the power of social selling and ecommerce
1. Facebook:

Since Facebook is full of potentials for business, HubSpot brought a set of tools to help marketer ultilise Facebook.


- Facebook retargeting: You can run a Facebook campaign targeting last 200 visitors on your site
- Easily run lookalike campaigns

Facebook video publishing:

You are able to publish the video to Facebook right in the Social app in HubSpot now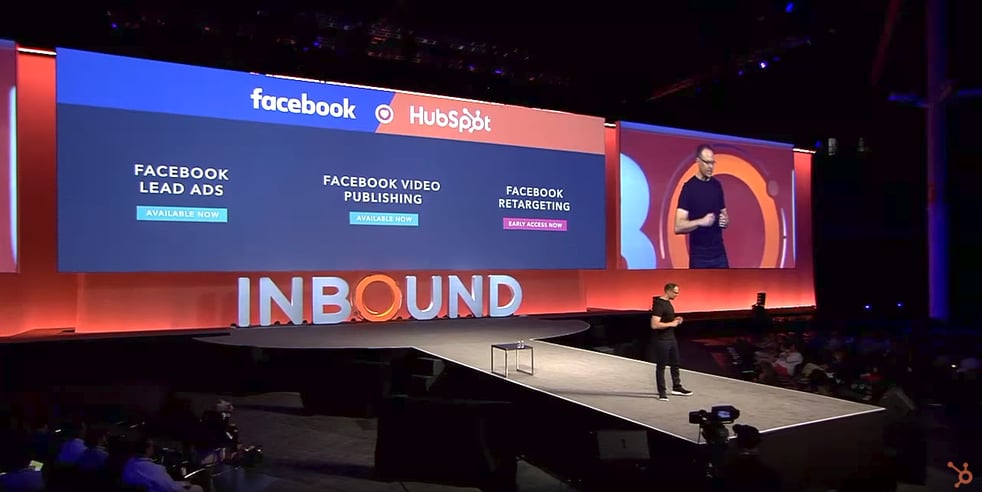 Source: HubSpot
2. Instagram for HubSpot: Tee up posts and get mobile reminders to publish your content on Instagram. Coming soon to beta.
3. Native Shopify Integration: Seamlessly sync product and sales data to HubSpot. Benefit from HubSpot's analytics, workflows email and more. Currently in beta.
Data drives the marketing decision, not assumption:
From planning new marketing campaign to optimising the current campaign performance, the marketers need to able to draw the stories behind the data in order to trigger the actions. With HubSpot new features, the marketers can measure every thing from single piece of content to the whole campaign
1. Content Strategy: A new, modern approach to content and SEO that helps marketers get more traffic with less content.
2. Campaign Reporting: The reporting engine helps you to have big picture of all the marketing campaigns' performances site by site, directly to traffic, leads, and revenue. As the result, the marketer can see which campaign has most impact to lead goal. The feature is in beta program.