6 minute read
Honkarakenne Ltd is the global pioneer in modern log house technology with local sales in about 30 countries in three continents. Over the years, the company has produced countless innovations which have modernised log house designs and introduced healthy building concepts and processes worldwide.

However, marketing and sales had remained on traditional tracks, focusing on the strong product brand Honka. In 2014, the management took a brave decision: marketing and sales of the company shall be modernised. The first market to implement inbound methodology was Finland with the goal of scaling up the best practises globally in order to boost sales growth. The results are amazing: e.g., the number of online generated leads in Finland has grown +305% in three years.
Inbound marketing principles put the marketing budget upside down: print was replaced more and more by digital. Also sales practices were upgraded due to active lead generation. All this has resulted in speeding up the relatively long sales cycle of a residential house – and for marketing to rely more and more on inbound.

Joonas Rantala, Honkarakenne head of marketing in Finland, summarises the changes and his key insights:
Long sales cycle requires a firmly built sales funnel
For a private consumer, the decision about buying a house is a huge investment decision. This means that the buying journey easily takes 1.5 years or more. The potential buyer needs plenty of versatile content to get support in making the decision throughout the journey: from inspirational ideas to detailed information about the building process and technology specification. For a house seller, the key challenge is to find and start dialogue with those buyers that have a clear intention to buy in the short term.

When the work started in 2014 the key challenge was to get warm leads. Now 3 years later we are:
Generating more Marketing Qualified Leads: in 2016 the monthly lead volume was 99% more than in 2014.
Starting the buyer journey on the web: in 2014 only 3 % of sales was generated on the web when in 2016 the corresponding figure was 49%.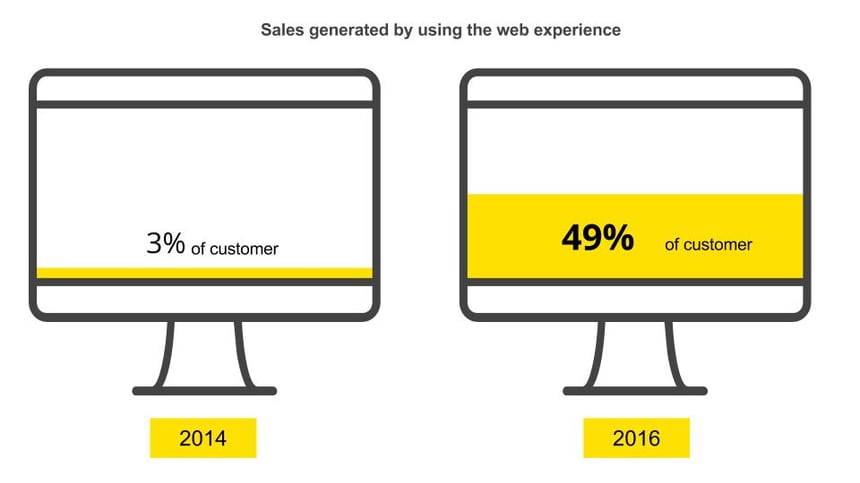 In order to have more leads of better quality, understanding the potential buyer personas and their needs is crucial. Continuously provided and relevant content is a must in building a solid customer pipeline: this way we can identify those that are still seeking for inspiration from those that can be already helped by a contact of a sales person. Honkarakenne has identified several key buyer segments and also aligned the product range to fit these segments.
The next step was to build web content to support each buyer persona and to build a lead-nurturing path. This was created segment by segment. Step-by-step approach enabled fine-tuning the whole lead process. For sales, the change was remarkable: they started to receive better-quality leads and needed to understand how to deal with them. The new way sales dealt with warm inbound leads was very different compared to the "leads" coming from the traditional outbound channels.
The key actions used for building a solid sales funnel were
Defining buyer personas; understanding various needs

Creating buyer-specific content and conversion points

Strengthening the buyer journey by innovative tools and continuous activations

Securing the quality of leads handed over to sales.
How the change from outbound to inbound was managed
In 2014, the majority of Honkarakenne's marketing budget was spent on print advertising, banner advertising and direct mailing. At the same time, however, the foundation for inbound marketing was built. In 2015 and onwards, it was time for action and inbound took the main share of the marketing budget. This was a very courageous move from Honkarakenne management: it was obvious that the move into inbound marketing and getting the large sales representative network to adopt social selling practices would not be easy.
A key objective with inbound was to define the criteria for a Marketing Qualified Lead. This way it was ensured that the leads passed over to sales would already be in the consideration or decision stage.
Now, with the background of three years of operation, we can show a dramatic improvement in return on marketing. The cost per Marketing Qualified Lead has been reduced by 90%. Furthermore, the sales team is happy, getting now a constant feed of warm leads. Gone are the days when sales called the leads delivered by marketing "rat leads" – in the past sales categorized 90% of leads poor in quality. In addition to this, Honka now captures buyers that previously did not consider Honka in the decision stage.
The solution is based on person specific interests
The key insight was to move from offering the same content for everyone to offering specific content for each buyer persona. Luckily, there was a lot of existing content which could be used or edited along with producing completely new content.
The buyer journey was mapped out and web content built for all stages of the buying process. HubSpot's all-in-one functionality proved its worth as all key lead generation, and warming up activities can be managed with one platform.


The key success factors are
Large number of conversion points for various stages of the buyer journey
Providing new tools for house planning
Creating buyer persona specific paths and workflows
Collecting new contacts and strengthening the existing contacts via new content shared in social media, blog posts and e-mails.
A blog focusing on healthy living has been actively used to reach out new potential buyers wanting to improve their living and lifestyle. This together with very active Facebook postings has built reach and new traffic to the web pages. Significant improvement for the buying experience is to provide ideas and tools that help the buyers to define their dream house and define the budget.
Idea tool for planning your dream house (by HubSpot CMS)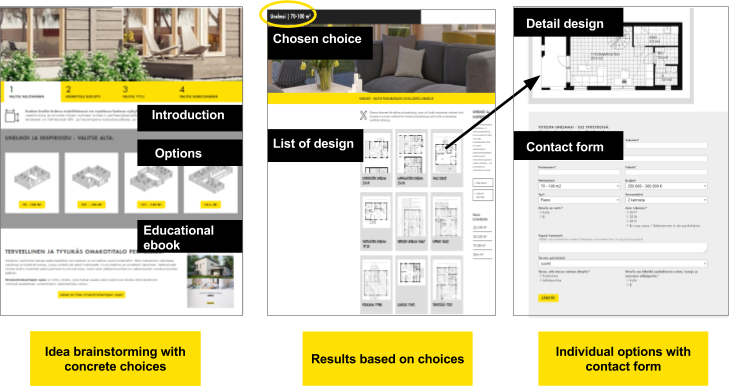 The key achievement of inbound is that the buyers are served in all stages of their buying process, also when they postpone their decision for a shorter or longer period. The dialogue is kept alive through social media, newsletters and invitations to nearby house displays and other events.
The workflows with supporting downloadable content have been built for main segments. They have been constantly fine-tuned and new ones have been created. Today, there are more than 30 workflows that generate nearly 1000 leads per month – in the Finnish market only.

Complex sales process - with excellent sales results
There is no doubt Honkarakenne has benefited a lot of inbound: The number of online generated leads has grown +305% from 2014 vs. 2016. In addition, the quality of leads has remarkably improved. Altogether 40% of sales qualified leads are now generated by inbound.
Actually, the number of web visitors has reduced by -9% since 2014. However, at the same time, the number of Marketing Qualified Leads has increased by 230%. This means that the web visitors fit better and better with the defined buyer personas. The visitor quality is more important than volume.
In 2016, already 49% of house buyers started their buying journey on the web. The comparative figure from 2014 was 3%. The great impact on sales is remarkable: web-influenced deals have increased by 291%.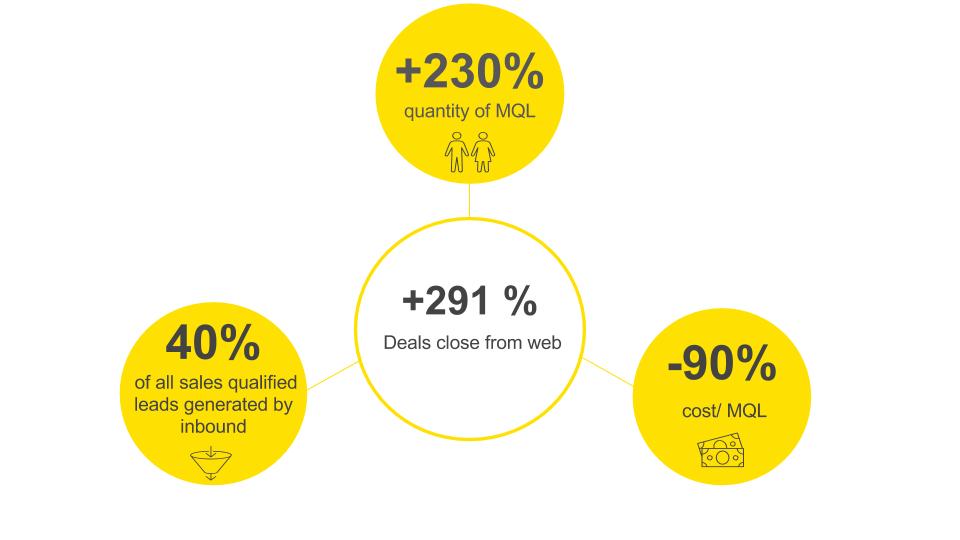 Focus, innovativeness and persistence drive the change
Honkarakenne has made a very successful transformation, one that only few companies are able to do. This case shows that inbound works very well in business with complex buying process and decision making. Without marketing automation, there would be no possibility to effectively improve the buyer experience. The large amount of data and very complex workflows would have been close to impossible to monitor manually.
You need to have your goal set and action taken: where you want to be in three years, how are you building the inbound program to get you there. To succeed, this takes hundreds of baby steps. You should not expect great results in a few months, rather in a year or more.
Having a clear goal in mind is as crucial as getting on with persistent work: continuously monitoring results and fine-tuning content, conversion points and workflows. The good thing is that you can monitor the impact of improvements early on and continue building on positive results. Without good planning, great content and thorough analytics, it is not worthwhile to drive this type of sales and marketing transformation.
Inbound is not a sprint but a marathon race


Honkarakenne has now a scalable sales and marketing process which they can use globally. This offers great opportunity when boosting sales in 20+ markets and languages together with HubSpot.